Four Blocks to the Beach in Best Area
1739 Sunset Cliffs Blvd in Ocean Beach 92107 is called "The Ocean Beach Seagull". It is located in the best residential area in Ocean Beach (south of Newport Avenue). We are designated to be an historical building built in 1958.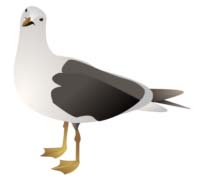 The "Ocean Beach SEAGULL" is an older nicely landscaped 12-unit apartment complex, with an easy walk to restaurants and shopping, 4 blocks to the ocean and less than 10 minutes drive from the airport, the Navy bases, downtown San Diego and many San Diego amenities. The complex has a BBQ grass courtyard area for lounging in Adirondack chairs and on-site laundry.
We offer WI-FI and FREE GAS. Four of the units have been completely remodeled and the other 8 still maintain their rustic charm. All the units have new paint, newer windows, fans, alley kitchens with plenty of cabinets and all units has been meticulously maintained. It is Private and Quiet. There are 8 parking spaces for 12 apartments …so it's first come first serve and no guest parking. Additionally, we have a pleasant common area BBQ area on the grassy courtyard with Adirondack chairs for lounging. There is a laundry room on site and a private area for bike storage.
We have 6 one bedrooms and 6 studios renting. Six are on the ground floor with (two with private yards) and six are upstairs with two sets of stairways.
Ocean Beach is a small beach community, living with locals and away from the hubbub of downtown or the extreme beach scene but close enough to still enjoy it. It is one of San Diego's most relaxing places, which makes us a great alternative to luxury apartments in San Diego and Mission Valley, CA. While residing with us, you can go to the beach, of course, or shop on Newport Avenue. The year round sunshine allows for year round attractions too. Visit the longest pier on the west coast, the Ocean Beach Pier, or enjoy the vast collection of antique stores, bars, and restaurants. This community is known for its unique neighborhoods, beautiful parks, playgrounds and sports fields.
1739 Sunset Cliffs #11 Already Rented
Rents: $1,500 – $2,400
Studios Rent $1,500 – $1,900
One Bedrooms $2,000 – $2,400