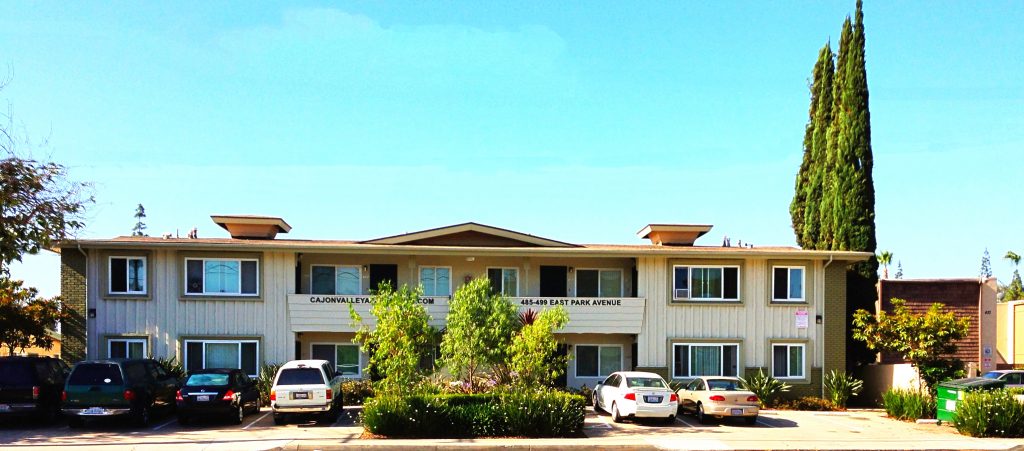 Big Quiet Apartment Complex near parks and the central civic center is this small complex "Cajon Valley Apartments 485-499 East Park Avenue"
Cajon Valley Apartments is located near schools and parks within walking distance of downtown center. It is centrally located, a short walk to the new junior high, local parks and one block from the Civic Center in the best area of El Cajon. It is a 3-minute drive to I-8*. (The Mother Goose Parade lines up right in front of our complex)
These pleasant apartments have sunny eat-in kitchen with tiled floors and painted wood cabinets. All have either neutral newer carpet or hardwood flooring and all are freshly painted. There is a small hallway between the large roomy bedrooms with ample closets, a security door, fans, new windows, and tile counter tops. Sunny + Quiet + Private.
Extras include assigned close-to-your-door parking for one car, a secure laundry room, and on-site management in a family owned complex. There is lots of pretty landscaping, benches and a BBQ and newer windows.
Most of the current tenants have been there for years and consider this their home. The rooms are large and roomy.
Month to Month, FREE Water, FREE Parking, FREE landscaping, FREE trash
No pets.
Call to see it and get an application. 619-297-9911
Rents $1400 – $2100
One Bedrooms range from $1500 – $1700
Two Bedrooms range from $1700 – $2100