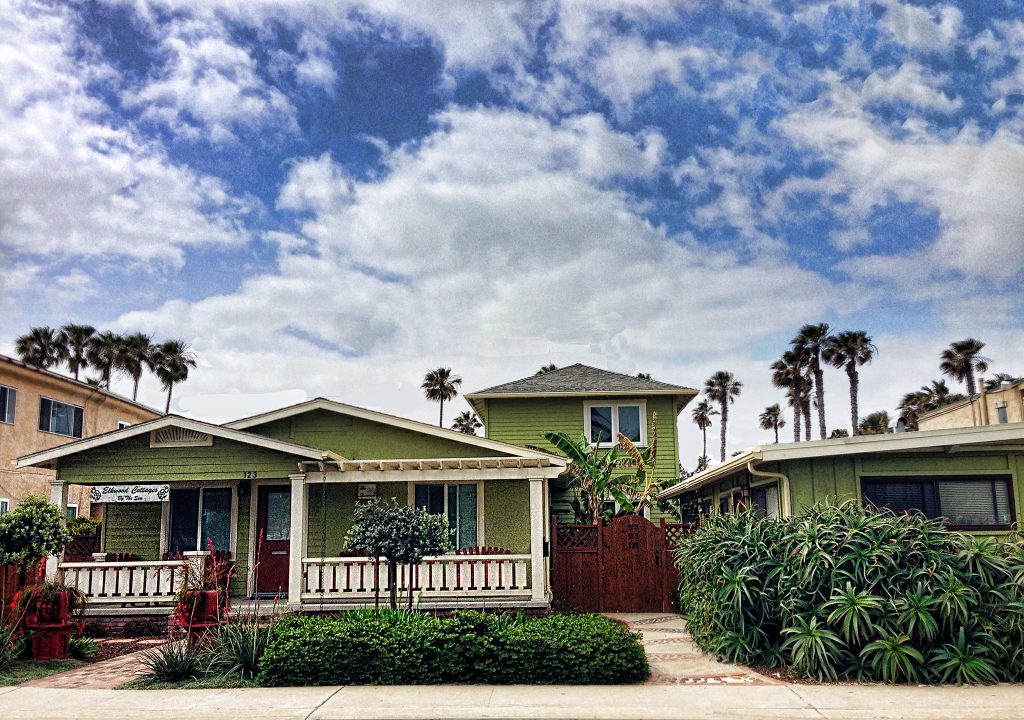 This is a five unit complex is named "Elkwood Cottages By The Sea" . It is on a large lot, three properties from the ocean (150 steps) and also a short walk to the center of downtown Imperial Beach and the pier. It consists of two buildings….a duplex and a triplex.  Each unit has it's own name; The Sandcastle, The Starfish, The Whale, The Seahorse and The Seashell each with it's own logo at the front door.
There is a winding path between the two buildings with hanging banana trees, Ginger and tropical plants….a little garden of Eden. Each unit has is own parking spot and privacy. Rents currently range between $1500 to $2000. One of the units is completely renovated with a new kitchen, bath, flooring. All have new windows.
The Duplex is much larger. Each unit has a front and back door and private fenced yard and a washer/dryer.Both have been completely remodeled. Rents are around $2800 t0 $3500/month
Imperial Beach is a unique sleepy beach community near giant protected park lands and local parks. Walk to seashell-candy-surfboard shops and restaurants with one of the longest piers (free fishing) in California sporting its own restaurant at the end. Imperial Beach has the title of being "The Most Southeasterly City in the United States" yet it is located only 15 minutes from downtown San Diego and minutes to Coronado which claims to have of the beautiful beach in the country. Recently a brand new Marriott Hotel was build on the sand.
IB is known for its surfing waters, dog surf contests and sand castle events.
Currently all five units are rented month to month.
Photos of individual units